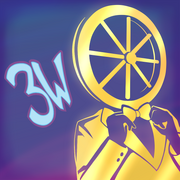 The Third Wheel is the group behind the Thrilling Intent YouTube series. It is comprised of four members; Matt Cosgrove, Fae Morrigan Kells [1], Jay Barrett and Jackson Turner, who are, according to their channel description, "a couple fellows who are as passionate as we are loud. And we're very loud."
Matt is the voice behind Markus Velafi, and composes the music used in the series, as well as the character songs found outside of the episodes (save for Lord and Ladies, which was featured in the Valentine special episode).
"Matt is the maestro of the mmmguitar and makes music!" - [2]
Jackson is the voice behind Gregor Hartway, and draws the art seen in the show, such as the cover image for each episode and the larger character images. He is also behind all the animations seen in the show, save for the opening animation seen up until Deck of Disaster Part 1.
"Jackson draws AWESOME art and animations" - [2]
Fae is the voice behind Aesling, and fixes the audio for the episodes and is the "puppeteer". During The Village of Corpses Halloween specials she also voiced Harper. She was the one who made the animation for the first opening that was used up until Deck of Disaster Part 1, which was later replaced by one made by Jackson.
She changed her name from Faust to Fae [1].
"Faust does voice acting, and guests on shows like RPPR!" - [2]
Jay is the GM in this campaign. As the GM, he has the voice and control of almost every supporting and minor characters, including monsters and other creations needing a voice.
"Jay writes and designs games and a lot of cool stuff, most of his work is over on our patreon!" - [2]
References

Edit